TCM-YT 2 in1 steel tank mechanical polishing machine
TCM-YT 2 in1 dual use steel tank vessel dishes mechanical polishing machine for pressure vessel fabrication using.
Hefei Trancar Industries company Focus on standard and non-standard steel surface automatic polishing machines design and manufacture.Providing all kinds of steel made workpiece's mirror surface mechanical polishing machine grinding equipment & solutions.Such as Ss tank mechanical polishing machine,steel dishes polishing machine,ID/OD pipe polishing machine,pressure vessel inner outer surface grinding machine etc.
Trancar Industries TCM-YT column and boom manipulator polishing machine is 2 in 1 dual use mechanical polishing machine for stainless steel tank vessel body and dishes' interior & exterior surface grinding buffing.This model is mainly for both tank shell and dished end vessel heads surface's treatments,such as polishing grinding and buffing with two polishing motors on each side of machine beam(boom),economical and environmental.
TCM-YT polishing machine can polish & grind for the different workpiece like tank body,tank head,vessel heads,cylinder heads and dish ends.Using impeller with different grinding mesh grit to meet the demand on polishing.It is widely applied to medical,chemical,environmental purification,food
and beverage,as well as water filtration,etc.
Max.loading capacity 10 ton cylinder tank rotatory rotator and 10 ton max.loading capacity dishes rotary turntable clamping system are amounted on machine.Custom made service is available too according to client's polishing demands.
#Mechanicalpolishingmachine #steeltankvesselpolishingmachine #dishespolishingmachine #pressurevesselfabrication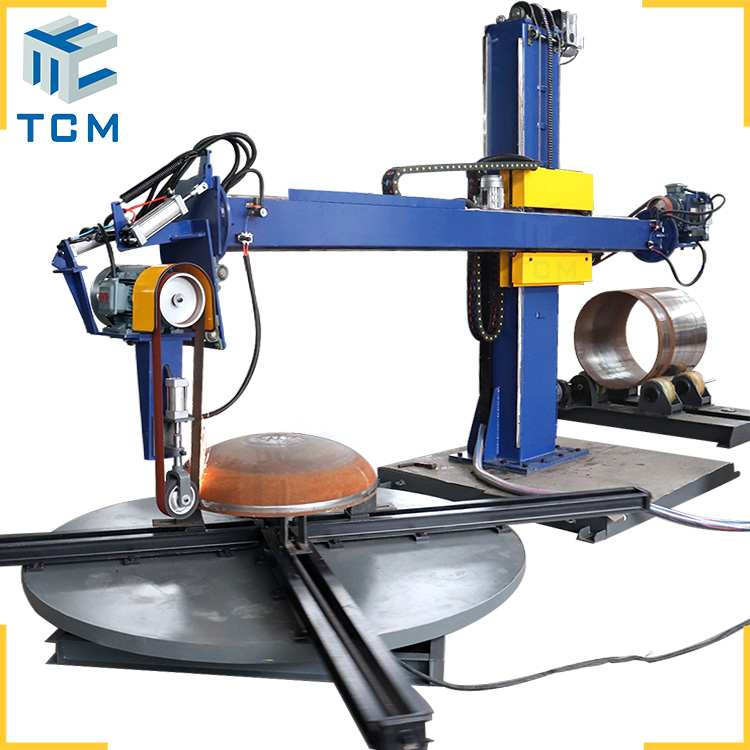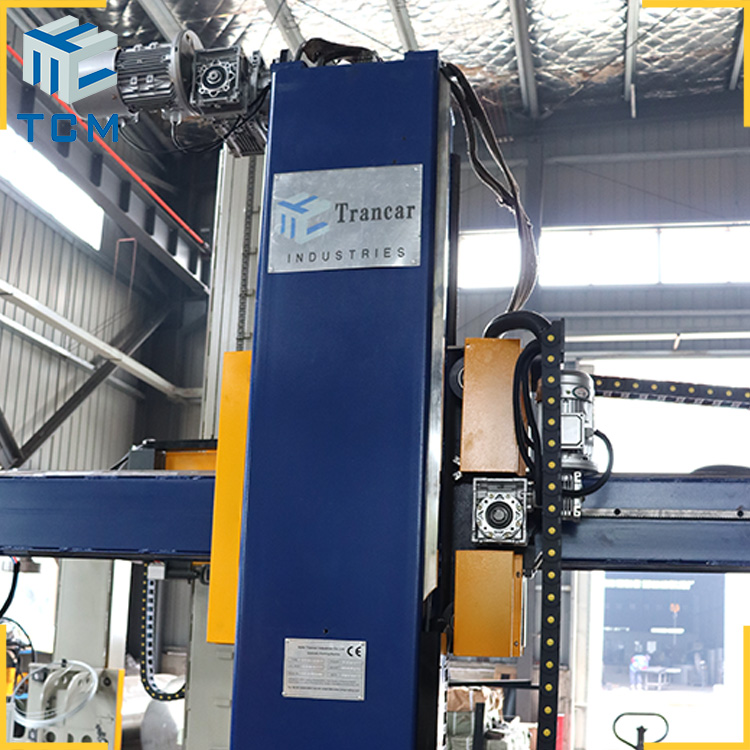 TCM-YT 2 in1 steel tank mechanical polishing machine parameter:
Normal configuration(customer design acceptable)

Steel metal tank size

Outside diameter

400~5000mm / 7000 mm

Inside diameter

400~5000mm / 7000 mm

Length

<=5000mm / 8000 mm

Tank Roller Max.Loading capacity

1 Ton / 2 Ton / 5 Ton /10 Ton or customization

(13T,15T,20T)

Dish end/Tank Head Size

Inside & outer Diameter

450~5000mm / 6000 mm

Turntable Max.loading capacity

1 Ton / 2 Ton /5 Ton / 10 Ton for option or custom design 15 Ton,20 Ton.

Polishing Precision

Mirror Surface

Available

Production Efficiency

Polishing working speed

6~12 m2/h

Total Dimension

Machine Dimension

4500*1600*3080mm

Column Dimension

300x400x8 mm

Beam Dimension

150x200x6 mm

Input total Power

/

15 kw

Power Supply

380V 415V / 50Hz 60HZ / 3p or Customization

Machine Weight

/

3550kg

Color

Grey/Green/Blue/Red/Yellow Custom design

Suitable Polishing Materials

Abrasive sanding belts,grinding wheels. (flap/cloth/ emery/Nylon wheel etc)
Contact information:
Email

sales06@trancarindustries.com

Web

www.tcmgrinding.com

www.trancarpolishingmachine.com

QQ

1678870824

Whatsapp

86-13395652967

Skype

vekywei

Wechat

Sean0996

Zalo

86-18656970696