Trancar Industries spring steel wire rod grinding machine / wire rod milling equipment
1) TCM-WR wire rod grinding machine use a mechanical method to polish the surface of wire rod. After the base material is polished,the wire diameter is slightly reduced, the surface is smooth,no scratches,pits and other defects,no obvious wear marks, and the surface roughness is generally in the Between Ra 3.2-6.3,the wire rod surface is bright rather than matt.
2) This belt polishing machine cleans the slight pits,and scratches on the surface of the wire rod.Each set of active rollers and a tension roller supported by the turntable drives the high-speed rotating abrasive belt.For polishing (roller made of aluminum alloy),the rotating speed of the turntable matches the speed of the take-up machine.
3) This wire rod polishing machine is suitable for polishing various base materials with a circular shape (including disk,strip,tube and other forms). Customers with the outer diameter of the base material can choose various types of belt machines according to their requirements.This machine has no special requirements for the material of the base material and can be used for carbon structural steel,carbon-bonded tool steel, and alloy-bonded steel wire rod wire line surface grinding polishing.
High speed spring Steel Wire Rod grinding machine parameter:
Normal configuration(customer design acceptable)

Wire Rod Diameter

1-5mm / 5-8mm / 8-16mm / 16-25mm

Machine Dimension

(L×W×H) 2650×1050×1300mm

Abrasive Belts Size

1600*500 mm / 1350*300mm / 1250*300mm etc

Production Efficiency

Polishing working speed

120-200 m/h

Input total Power

35 kw

Power Supply

380V 415V / 50Hz 60HZ / 3p or Customization

Machine Weight

/

2100kg

Color

Grey/Green/Blue/Red/Yellow Custom design

For option

Dust Collection system is available during polishing.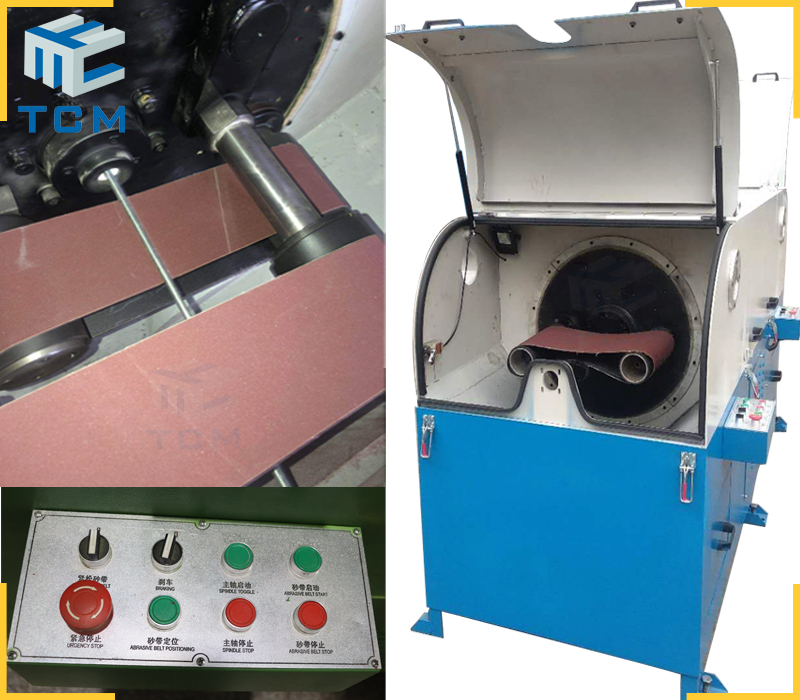 Beside wire rod surface grinding machine,Trancar Industries also provide custom design steel tank polishing machine,steel round pipe polishing machine,welding seam planishing machine,pressure vessel circular welds grinder etc.
For more better price steel automatic polishing machine,please kindly contact us Email:contact@trancarindustries.com.