Custom design Welding seam welded joints planishing & grinding equipment
Hefei Trancar Industries Co.,Ltd provide custom design welded joints removal solutions and equipment.Such as Stainless Steel sheet welding seam planishing & grinding machine,steel tank shell circular welding seam flatten machine,tank shell longitudinal welding line crushing machine etc.
TCM-X equipment is 2 in 1 machine which could both planish and grind steel sheet welding seam in mechanical way.
Our machine equip with PLC automatic control system.Easy to operation.It could deal with Max. length Max.4m welding seam surface treatment and removal.
This custom design equipment with two grinding systems for steel sheet up and down welding seam,at the same time with one set planishing wheel which could crush welded joint on steel sheet.
For more welding line planishing and grinding machine,please feel free to contact us,OEM & ODM service are available.
Trancar Industries are professional on providing machines for steel products' surface treatment,such as steel surface rust removal, surface grinding,mirror surface buffing,welding seam removal etc. All our machine and equipment with CE ISO SGS certificates.#planishingmachine #weldingseamflattenmachine #weldinglinegrinding #weldsremoval #trancarindustries #weldsplanishingmachine #weldsgrindingequipment #planisher #flattner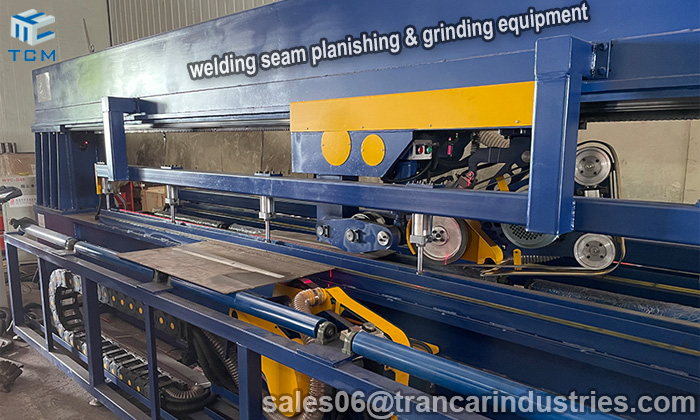 Welded joints planishing & grinding equipment delivery & container loading ship to our partner in Europe market